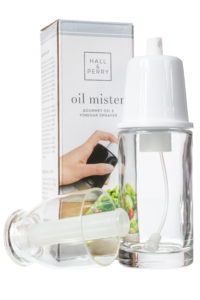 Hall & Perry Oil Mister is designed to gently mist oil on foods, improving taste without poorly impacting your health. This BPA-free olive oil dispenser sprayer is perfect for those concerned with diet and weight management or  just for those wanting an easier way to dispense oil. Reusable mister bottle gives you convenience and health benefits by controlling the amount of oil you add to your food. Just fill with your favorite oils, vinegars, olive oil and citric juices and mist desired amount on to food. Reduced-fat cooking made easy. Designed for durability and easy use.
*Free Shipping for Amazon Prime Members

*We like our privacy too and promise we won't share your information with anyone other than our amazing Trendline Team!