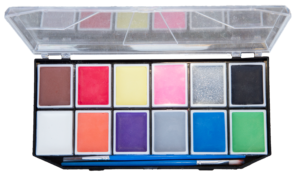 A COMPLETE ORGANIC FACE PAINTING KIT!
The bright, vibrant colors in our Honest Abe face painting palette are sure to wow! The classic colors are the perfect combination or rich, creamy non-toxic paints that can be blended to create any masterpiece you can dream of! Whether you are a professional for hire or just want to paint with your family and friends, this kit has everything you need! Great for children's birthday parties, Halloween, Carnivals, Tailgating and special events you can create fun with your favorite animal, superhero, cartoon character or even crazy abstract design.
*Free Shipping for Amazon Prime Members

*We like our privacy too and promise we won't share your information with anyone other than our amazing Trendline Team!