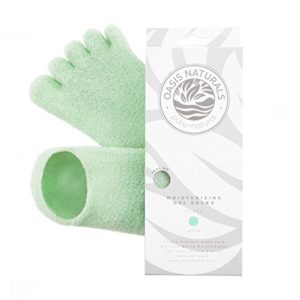 Our amazing moisturizing gel socks are a perfect way to treat yourself to a spa treatment in the luxury of your own home! The socks slowly release therapeutic oil to repair dry skin and cracked heels.  The hypoallergenic gel includes Lavender, Jojoba Oil and Vitamin E essentials oils that work together to give you softer, healthier feet.
  Best used in the evening before bed and when you are able to sit and relax with your feet propped up. For more intense treatment, use with a skin moisturizer. Fits most women's foot sizes up to 11. Toes can feel a bit snug the first time you wear but tend to fit more comfortably with additional use. The Perfect Gift to Others or Yourself. Treat yourself or those you love to the gift of softer feet!
 Pre-Discount Price: $13.74
Discount:50% Off
Your Price: $6.87
*Free Shipping for Amazon Prime Members

*We like our privacy too and promise we won't share your information with anyone other than our amazing Trendline Team!