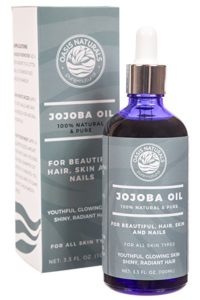 Jojoba can be used head-to-toe… literally! For hair, face and total beauty care. It's perfect for naturally removing makeup, soothing the itch from a sunburn and smoothing out knots in hair.
A few ways to use Organic Jojoba Oil:
Makeup Remover – Add a few drops to a cotton ball to remove face and eye makeup
Skin Moisturizer – Apply to lips, nails and skin as needed for natural hydration
Hair Treatment – Apply a quarter-sized amount over wet hair, focusing on ends. Shampoo out after 5-10 minutes. Can also apply to damp hair to help smooth out frizz.
*Free Shipping for Amazon Prime Members

*We like our privacy too and promise we won't share your information with anyone other than our amazing Trendline Team!