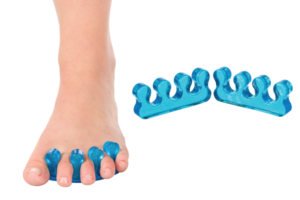 Oasis Naturals Gel Toe Separators are designed to fit comfortably between your toes to help correct foot pain, plantar fasciitis, hammer toes, mallet toes, claw toes, crooked toes, bunions, and more.
Gel toe correctors provides remarkable health and longevity benefits by separating toes. They are also the perfect toe separator for pedicures! Constructed out of gel, the stretchers separate and lengthen the toes, significantly reducing strain on the foot.
The one-size-fits most spreaders simply slip on and instantly begin to providing relief by improving the alignment of each and every toe. Perfect for ballet dancers, yogis and athletes.
*Free Shipping for Amazon Prime Members

*We like our privacy too and promise we won't share your information with anyone other than our amazing Trendline Team!